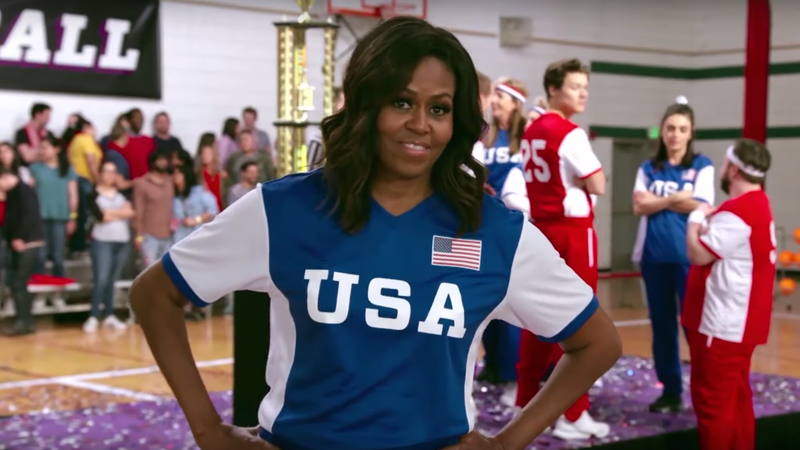 viaTheRoot:
Clearly, James Corden knows how much we love Forever First Lady Michelle Obama—and how much we miss seeing her showing up to perform "Carpool Karaoke" or a "mom dance" with fellow late-night host Jimmy Fallon. But even though she's now also a bestselling author in addition to being one of the most beloved icons in the world, the leader of the "Let's Move" initiative still makes time for recreation—and for a laugh.
And what's funnier than a good-old-fashioned dodgeball game? (Fun fact: Did you know that the game we now know as dodgeball was rumored to have started in Africa? But I digress.) Ostensibly repping for Teams USA and the UK, Obama proposed a star-studded "Battle of the Sexes" on the Late Late Show With James Corden on Monday night, with hilarious results.
Lena Waithe, Melissa McCarthy, Mila Kunis, Alison Janney and Kate Hudson all bolstered Obama's all-female squad, while Harry Styles, Benedict Cumberbatch, bandleader Reggie Watts and John Bradley (better known as Samwell Tarley from Game of Thrones) comprised Corden's team—which unfortunately didn't have the benefit of Obama's famed quips (or nutritional advice).
"When they go low, we also go low," said the first lady, remixing one of her most famous phrases. "Because that's how dodgeball works, amirite?"
CLICK HERE to read full story
Michelle Obama Challenged James Corden to a Dodgeball 'Battle of the Sexes'  was originally published on praisecleveland.com