Back in April, a thug granny in Macon, Georgia named Judy Tucker attacked a Black woman who was not only a solider but pregnant — all over a parking spot. The granny was thrown in the slammer and released on a $650 bond. Now another thug granny has been locked up and this time it was for attacking Black children on a beach in Connecticut.
SEE ALSO: Watch A Gang Of Savage, White Thugs Attack Police Officers And No One Gets Shot And Killed
According to the Norwich Bulletin, 60-year-old Mary Holcomb was shouting racial slurs at Black kids at a beach near Killingly, Connecticut. Police arrived and Holcomb was reportedly drunk and yelling. She allegedly refused to give officers her birth date or address and threw herself to the ground. She was charged with interfering with an officer and second-degree breach of peace. Norwich Bulletin reports, "She was issued a $1,500 bond and is scheduled to appear in Danielson Superior Court on July 10."
Below is her alleged mugshot.
White folks are really on the loose, harassing Black people from swimming pools to parks to restaurants. Sadly, we even have the president the United States who throws insults about people having a "low IQ." The country has certainly hit the gutter of decency and white folks are the main culprits. Holcomb was clearly channeling her hateful roots. Everyday this disgusting behavior is endorsed by our current administration.
Unfortunately, there is no video of Mary Holcomb— so in replace of that, let's revisit thug granny Judy Tucker's mugshot from April.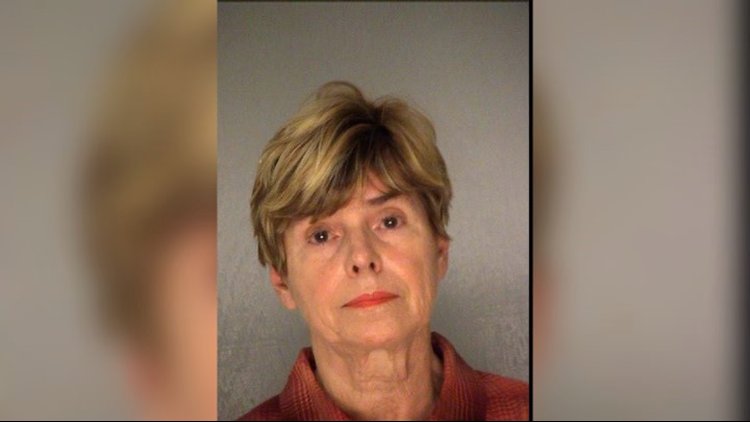 These two should form a country western duo. They can tour beaches and parking lots across the country.
SEE ALSO:
Look! The Thug Granny Who Assaulted A Pregnant, Black Solider Now Has A Viral Mugshot
Tiffany Haddish's Best Moments At The Oscars & And She Wasn't Even A Winner Or Nominee
Stacey Dash Is Begging For Campaign Donations By Shouting Out The Bronx
Another Thug Granny Channels Her Racist Roots And Attacks Black Children On A Beach  was originally published on newsone.com